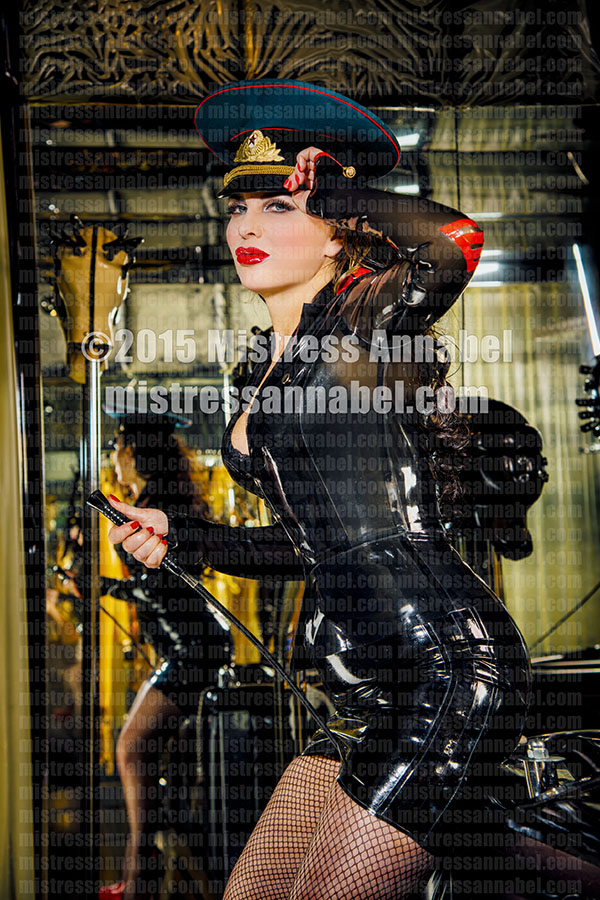 I am Mistress Annabel, sensual yet cruel keeper of male souls and purveyor of perverse kinky desires. My most ardent desire is to play wicked games with your body and mind and take you on a journey of discovery where total submission to a beautiful Dominant Mistress becomes de riguer! I have My own private Central London studio where your discretion is guaranteed and where We can play and explore your most intimate thoughts,desires and fetishes for anything between one hour and three days. It is equipped way beyond your expectations and allows Me to use you in so many ways you have never expected or experienced. Much of My equipment is bespoke and I have a wealth of experience especially versed in psychological control and erotic hypnosis.
Many of My treatments are unique and will shown a deep understanding of the male psyche and your erotic fantasies and dreams!
Set some time aside to enter My private world. An wonderland of kinky dreams and fetishes based in Central London where my desires become your most private commands. I will take you to a place inside your mind where nothing else will matter, you will exist as my toy,my plaything, my submissive slut.
I am both an Artesian and high intellectual, passionate and educated to degree level with a perchant for those of similar intellect and quick wit that like to live a life less ordinary sometimes.
My chambers are superbly appointed, highly discreet with their own entrance and fully equipped beyond your wildest expectation. I see many international players that remark that my space is the very best that Central London has to offer. As a rubber and medical fetishist attention to detail is key and each room is spottlessly clean and suitably chic.
White Medical Room/Twisted Clinic
Many unsual and bizzarre treatments. Stunningly clean sterile surroundings. Electric chair,gyne bench and hydraulic medical plinth. Massive array of sterile one use only catheters,enema equipment, sterile staples,syringes and needles. Two milking machines (Venus 2000 + Serious Kit) inc. cock and nipple milkers. massive array of dildos and electrical boxes and attachments. Many comment it's the best medical facility in the UK.

Kinky Tv Boudoir
Dozens of beautiful and slutty outfits and maids uniforms. Twenty five pairs of shoes and shiny boots in all male sizes and widths many with facility to padlock them on!! Full chastity devices. Rubber pussy panties, torpedo tits, tight corsets in both satin and latex, steamed and fishnet stockings, wigs, female face rubber hoods and awesome, luscious rubber doll/slut attire.
Grey steel Dungeon
Superb facilites, imposing black electric chair, cage upto the ceiling, mirrors on the ceiling, massive five point suspension frame with rotating body board, seated cross and operating table. Fetters whipping bench and over sixty instruments for cp par excellence and judicial caning.

Plus, breath control, largest collection of rubber, many items custom made, including six dozen hoods, straitjackets,cat suits in all sizes, body bags, vacuum beds, bizarre medical devices and inflatables.
Many unique breath control gases and aromas unseen outside mainland Europe. The best and largest collection of Rubber/Latex/Gummi at my private and discreet chambers in Central London. Total enclosure, total control, rubber bondage and rubber doll treatments undertaken with skill and integrity. I guarantee you the best!
Time to take a chance….time to make an application. Fees at the upper end of the scale, appointments available from one hour to three days.
Same day appointments rarely available, please call between 10am-12 noon to check.
Prepare for an experience like no other, for only the most ardent of devotees……
www.mistressannabel.com
www.rubbermistress.net
www.twistedclinic.net
07961 555085
Mon to Sat 10am-10pm. No witheld numbers, respectful applications only. No sex, no adult baby, no animal training, no nonsense.