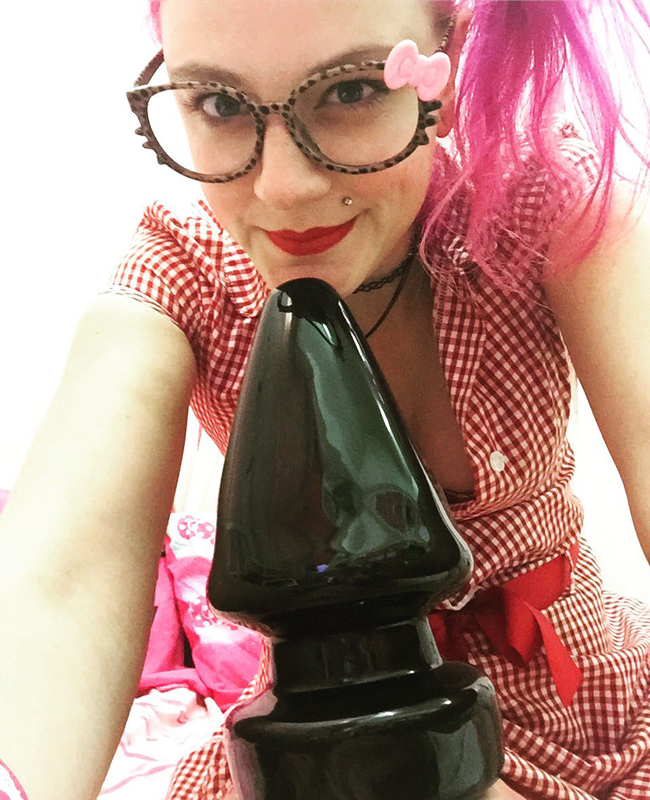 If you have ever had sick fetishistic notions about being controlled, owned, debased and humiliated by a little girl, a sweet innocent (albeit tall) schoolgirl Lolita, who is genuinely giddy over pink and Hello Kitty, well, you have found her.
Decadent, intelligent, imaginative, excitable and intense, at 5'9 in stocking feet, she is instantly recognisable on the scene with her Japanese inspired Lolita clothing, authentic English and Japanese school uniforms, wigs, pigtails, Hello Kitty glasses and tons of pink, glittery and Hello Kitty Decora.
Her style, which is all her own, takes inspiration from everything and everyone she has ever met and it allows her to fuck with people's perceptions of what a Dominatrix should be. She has been called "The Hello Kitty Domme' and takes great satisfaction from the reactions of people who mistake her for a sub when they first meet her, but then whose worlds are turned upside down when they see her in full flow.
She also enjoys role play and loves to be given to opportunity to dress up as more 'traditional' Domina, secretary, or anything else that takes her fancy.
Princess Almighty may be a cute looking schoolgirl Domina, but who has such utterly sadistic tendencies, she will fuck you up, break you in half and leave you in tears… but looks so innocent, that no-one will ever believe you!!
www.princessalmighty.com
www.facebook.com/princessalmightydomina
www.twitter.com/princesskittya
www.adultwork.com/princessalmighty
www.fetlife.com/princessalmighty
www.clipsfatale.com